Archive for January, 2011
I'd planned to quilt today but it was snowing! So the morning was spent piecing blocks for the Churn Dash and Stars quilt while I watched the snow out my window. (I don't know why it took me so long to move my sewing table in front of the window, I love it here).
After that a few hours of that, a walk in the snow to lunch and the coffee shop. This top is coming together much quicker than expected so I've been thinking about the next one I'm going to piece which is the Carpenter Star I drafted the other day. I did work up brief instructions for my version and posted them.
Are you shocked that I have something different to show two weeks in a row?
I'm just throwing these blocks up as I make them so placement will be adjusted as I get more blocks made — those three darker stars won't stay lined up like that.
It's very unusual for me to be up for the sunrise but this morning I was in my sewing room working on my new Churn Dash and Stars quilt. Watching the snow flurries as the sun rose.
We went out for breakfast and now I'm heading back upstairs to work a while. We're expecting more snow today and while everyone else seems tired of it…I'm not!
I'm the guest blogger today at Stash Manicure where I share instructions for this quick little quilt pieced earlier this month and inspiration for other Rail Fence Quilts.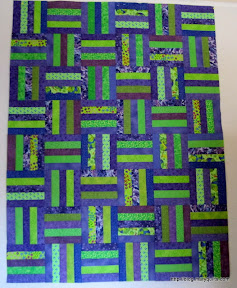 While you're there, check out posts from the other guests and start using that stash!
It starts out as my least favorite part of quilting and then about 2/3 of the way through assembling the top, I start getting excited about finishing it (yes, I consider a completed top a finish!) and I stop procrastinating and push through until it's done.
Overall I'm very happy with this quilt although I don't think the photo does it justice. (That bottom right corner isn't smoothed out – it's not the piecing!)
The brown setting triangles are a little clunky looking but I think it will be an opportunity to quilt something pretty – in gold thread  so it actually shows.
I love to travel …. to visit family, see new places, hang out on the beach!
It's just January but my travel plans for 2011 already include
Visits to Virginia, Georgia, and Florida to see family
Visits to Cocoa Beach and the Dominican Republic to laze on the beach
Visits to Denmark and Berlin to explore new places
A visit to Boston, one of my favorite cities
A visit to Michigan to explore my inner liberated quilter at a Gwen Marston retreat!!
I can't wait to see where else my travels will take me in 2011.
After quilting the top this morning I started assembling the fan blocks but assembly being one of my least favorite parts of quilting, I decided to get another binding done instead. I'll get back to the assembly tomorrow.
This was from Nancy's group in CT and will go to Alycia as a QOV as requested by Nancy.
ALL the donation quilts that were here before Jan 1st 2011 are DONE! All the non-HeartStrings tops are DONE. And with this HeartStrings top I quilted this morning I MET my challenge goal for January with 5 days to spare!
Top was pieced by Pat and quilted with a swirly version of Dwirling.
Of course, there's plenty here left to quilt — 2 tops from Mom, 3 HeartStrings tops that came in this month, and lots of my tops. I'll be binding these last ones over the next couple weeks too but I feel such a sense of accomplishment and excitement about the year ahead and focusing more on piecing quilts.
A new photo of my sweet Caleb from Adam.
Blogger and my iPad are finally playing together well – commenting has gotten easier without the need to sign in multiple times and I'm loving Flipboard to skim through all the blogs I have set up in Google Reader.
During a sleepless night a couple weeks ago, I found an episode of The Tudors to watch on the iPad (NetFlix for Season 1&2; iTunes for Season 3&4) and I'm working my way through all of them…now up to Season 3.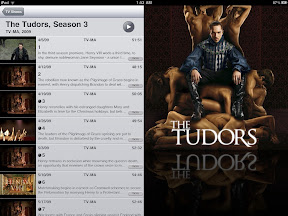 In trying to reset my sleep schedule I made it worse if possible. Now I'm sleeping from late afternoon through the evening which leaves me with no time with Keith…up all night, sleeping all morning is better! Need to try and reset again tomorrow.
Finally a question. Do you watermark your photos? I actually like it when people do then if I save a quilt for inspiration and use an idea from it months later, I know who to credit.
When I remember, I do watermark my quilts and designs with my blog address rather than my name (so people can find me again!) but I tend to turn it off for my scenery photos and forget to turn it back on when I'm working on the computer. I did just download an iPad app to make it easier to watermark the ones I post from here.