A new photo of my sweet Caleb from Adam.
Blogger and my iPad are finally playing together well – commenting has gotten easier without the need to sign in multiple times and I'm loving Flipboard to skim through all the blogs I have set up in Google Reader.
During a sleepless night a couple weeks ago, I found an episode of The Tudors to watch on the iPad (NetFlix for Season 1&2; iTunes for Season 3&4) and I'm working my way through all of them…now up to Season 3.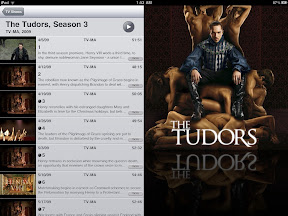 In trying to reset my sleep schedule I made it worse if possible. Now I'm sleeping from late afternoon through the evening which leaves me with no time with Keith…up all night, sleeping all morning is better! Need to try and reset again tomorrow.
Finally a question. Do you watermark your photos? I actually like it when people do then if I save a quilt for inspiration and use an idea from it months later, I know who to credit.
When I remember, I do watermark my quilts and designs with my blog address rather than my name (so people can find me again!) but I tend to turn it off for my scenery photos and forget to turn it back on when I'm working on the computer. I did just download an iPad app to make it easier to watermark the ones I post from here.