Archive for February, 2011
Mom's been busy working on our latest joint quilt…for a nephew heading off to college. The pattern is modified from an quilt in an old McCall's magazine and one we've used several times.
Old Dominion University
University of Maryland
University of Florida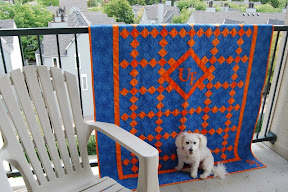 Virginia Tech
We have an overnight in Atlanta on our way to the beach and we had plans to meet Chris and Becky for dinner but Adam wasn't expected to make it….luckily he did join us and look who he brought!

These photos were taken with my iPhone in less than optimal light…changing them to B&W helps.
I received this Lapel Stick in the mail to use and review on the blog. I'll try it out on my postcards and let you know how I like it. I'm hoping it will replace the need for fusible by holding my small applique pieces in place until they're stitched. Thanks to the company, I'll also have a giveaway but ….you'll have to wait until I get back from this next trip.
I'm on an embroidery kick so you'll see more of it this year on my postcards for our family exchanges.

Thinking of my basket quilt and browsing through Kim's Just Leaf It book, I've come up with a leaf variation that while not exactly like one in the book — takes the elements from it and fits perfectly in the on-point alternate block. Of course I won't be quilting this one for a while so I'm posting it here so I'll remember it.

I'm participating in JudyL's UFO challenge and finished my #10 UFO for February. While this quilt is more color coordinated than I typically like I think it will make a lovely donation quilt.
I just remembered that I need to get my postcards for February's family exchange in the mail before leaving so I'll be working on finishing them tonight.
Quilted with Wonky Feathers from the Pajama Quilter DVD, I've already got this one trimmed and the binding on ready for me to handstitch down tonight. It's my #10 UFO for Judy's Challenge so I will make the deadline again this month.
I was afraid my feathers were getting too wonky but as usual once I take the quilt off the machine, I love how it looks. I really should listen to Dawn and STOP worrying!
And since it's almost time to pack for another trip, I finally unpacked from my VA trip earlier this month. After making backings for 2 of my tops, I pinned this top up (Mom pieced it for me from a Connecting Threads kit) so I can pull some backing fabrics for it. This one I'll keep and I've pulled out my Just Leaf It book to find some quilting inspiration for it. Kim is another wonderful quilter who inspires me.
And finally, look what came in the mail – two HeartStrings tops from Karen along with backings and bindings – could she be any nicer?  I'm thinking March might need to be HeartStrings month as I now have several tops here to quilt.
While normally I love walking downtown, today involved two of my least favorite things — the dentist and some clothes shopping. While you might feel sorry for me having to go to the dentist, the reason I needed to shop is that we're heading to a beach resort next week and I needed some new tops. Yep, I was in the middle of a winter storm this week and next week, I'll be lying on the beach with my Kindle and a Rum Runner!
After getting home, I got a couple tops organized with backings and hung in the closet downstairs — these are just 9 of my 22 tops waiting for quilting (at least I think there are only 22) but the others don't have backs yet.
And finally, I got my #10 UFO for Judy's challenge loaded and I'm about half way done – I'm quilting Wonky Feathers from the Pajama Quilter DVD which you may or may not be able to see in this photo.
I do SO love the snow and going out to walk in it.
Of course it helps that I left with snow up to my knees and came back a couple hours later to this …. all the sidewalks and steps neatly shoveled by someone else!