Archive for February, 2011
I'm heading to VA to visit Mom in the morning so today has been spent doing laundry, gathering up things I need to take to her, and packing. I also decided I did not want to come back to the Carpenter Star in pieces so I finished laying it out and sewed the half square triangles and then the blocks into their correct rows. I'll just have to finish assembling and add borders when I return.
You can probably tell I used a scrappy background for this one but it's more blendy in person than this photo shows. I love scrappy backgrounds because it's impossible to run out of fabric and I think they're more interesting than a single fabric.  Funny that the Fans and the Churn Dash ended up both having just one fabric backgrounds. Both were great prints that I loved but I didn't love worrying if I was going to have enough fabric!!
There are other things I probably should be doing today but I couldn't resist starting my Carpenter's Star.
I'm getting ready to travel and needed to get the heels done on my socks – I need to concentrate on that part so I like to sit and do them in all one session. Now I'm ready for more no thinking knitting!!
One of the things I love about the iPad are the fun apps. This one allows you to take 3 photos and create a visual poetry piece…not that I'm much of a poet! You can't really customize the settings but it's a cute idea.

Wouldn't they make great bookmarks? I used to make and laminate photos for bookmarks as small gifts but haven't done any in years.
The Lime Green centered blocks for our current HeartStrings project ready to be assembled but first I'm going to walk downtown to run some errands.
It's always fun to get together with a group of HeartStrings quilters! We spent the day in Roberts, WI working on quilts for donation.
I worked on blocks for our current Lime Green project and have almost enough done for a kiddie quilt.
….but I'm still working.
I quilted this top for Mom. It's from a Debbie Mumm pattern and quilted with one of my favorite pantographs – Plumage. It's a little more time consuming to quilt so I only use if for special people and quilts! It's always nice when I can quilt something and send it off to someone else to bind too.
And this is why my string bin never gets empty — I've got a ton of trimmings to sort through from all the binding I did in January. I only worked on this for a little while before moving on to my prep work for tomorrow's HeartStrings sew-in.
We've started a new project for Feb/March using Lime Green centers and will be making children's quilts. If you'd like to help, visit the HeartStrings site to see the block guidelines.
I've spent so much time in the sewing room this week that Chesty left his window perch to come spend time with me. He finds it's safest to sit out of the way under the ironing board.
The top is done – I'm not completely happy with how the outer border photographs but I love it in person. I also decided to add a small accent border between the pieced border and the outer border that wasn't in my original plan. You can find basic instructions for the quilt on my website.
I'm not sure where this one will end up — as a gift or special donation most likely but it will age on the shelf for a while!
If I spent less time admiring my work and more time sewing, this top would probably be done by now. I just love how it's turning out!
On today's agenda is to finish the assembly and add the borders as I need tomorrow to get ready for a HeartStrings sew-in on Saturday and I want this one done!
I can't believe I'm already to the point of needing to assemble another quilt so quickly! After quilting the HeartStrings top this morning, I spent the afternoon finishing up the blocks for the Churn Dash and Stars. I also pieced the blocks for the first border so its all ready to be assembled – again, my least favorite part of quilting but I am anxious to see this one together.
Also, Judy pulled #10 as February's UFO – this is my top to be quilted and bound this month.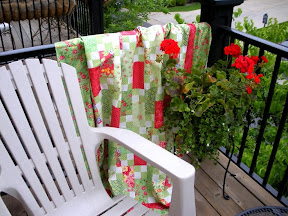 I had one more top that needed quilting by a deadline — this HeartStrings top pieced by Sue from blocks made by Maryanne will go with me to the WI/MN sew-in on Saturday. Luckily, I don't need to bind it. It's quilted with the pantograph Ebb & Flow.
Since completing my January goal a few days early, I feel like I've been on vacation!
The goal was 29 tops quilted OR quilts bound and I also managed to piece a couple tops too!
Tops quilted (13)
Quilts bound (16)
Tops pieced (2)
Total (31)
Accomplishing this goal has finished up all the donation quilting I had here from 2010 with the exception of 4 bindings which will be completed in the next few weeks.
I'm looking forward to focusing on just HeartStrings and my own quilting for the rest of the year!